In Stock
Artist SVN12 Solid Wood Violin Ultimate Package 1/2 size

Ultimate Starter Pack SVN12 Student Violin Package 1/2 size
Our Special Complete All Solid Wood Artist Student Violin package is a complete package to learn violin:
Solid Wood Violin (1/2 size)
Bow (Real Horse Hair)
Hard Case (with Shoulder Straps)
Chin Rest
Shoulder Rest
Rosin
TN50 Electronic Tuner
VNST44 Violin Strings extra set
MUS007 Music Stand
Free Video Setup Guide (this will be emailed to you)
This complete set will provide you the ultimate pack to get you on your way to learning Violin!
You will struggle to find an All Solid Wood violin of this quality for this price! It has fine tuners on all strings which are essential for good tuning. We also have a great set-up and tuning video for beginners. These Violins come fully strung, set-up and ready to play from the factory, you just need to tune them and apply the rosin to the bow. (We have support material on how to do this.)
Not sure what size to buy? Here's an easy guide:
The first step is to have the player stretch out his or her arm fully ensuring that there is no bend in the arm.
The second step is to measure the total distance from the neck to the centre of the palm.
After following the above instructions, use the measurement and the sizing chart below to determine the proper violin size.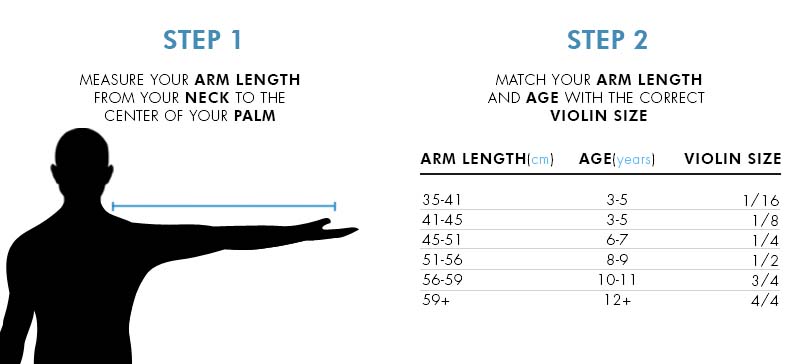 The Tech Features
Brand :- Artist
Model :- ULTSVN12PK
Size :- 1/2 Size Violin Pack
Woods :-
Top, Back and Sides: Solid Maple

Neck: Maple

Fingerboard: Redwood

Tail piece & Tuning Pegs: Ebony
Included Accessories :- Hard Case, Bow, Rosin, Chin rest & Shoulder Rest, Tuner, Strings, Music Stand
Colour :- Vintage Natural (NT)
(12739)
Artist wood Violin is in the next level

By:

Stefanus Tambun

on 6 June 2019

I was doubt to buy this package ( Artist SVN12 solid wood violin Ultimate Package 1/2 size) since the price was almost half of the previous violin I bought. but after reading some of the reviewers especially on Guitar amplifier, I got some come confidence to have a try. Amazingly, it was beyond my expectation. When my son played it, the sound was clear and loud. I didn't understand, how come from the small amount of money I got the best violin and its package under $200. The staff was friendly and know well what they were selling. I highly recommended and will come again.




(5)
Overjoyed with Artistguitars

By:

Sherry

on 27 January 2019

We rented a 1/8 violin set from Logans when my daughter first started violin. My general belief that learning violin is an expensive thing made me think that was the only affordable solution back then. $35 x 12 months (=$420) later, we need to upgrade the size to 1/2. I decided to find a second-hand one from Gumtree and found many of them listed around $200 unsold for a long time. It was no surprise that Artistguitars.com.au jumps out with high review scores after a few minutes of Googling. I can't believe that a whole set of violin is $149 including everything a student need. A package is delivered within 1 buisness day to Sydney. Email about delivery tracking and setup tutorial were sent all within 24 hours. We followed the video instruction by Elite Violin Academy and has everything setup within 20mins. It sounds wonderful, better than the 1/8 Gilga we rented. We'd definitely buy again from Artistguitars for all my kids musical instruments.




(5)
Violin 1/2 size

By:

Natasha

on 22 August 2017

Great violin for the price, well made and kit comes with shoulder rest, music stand and tuner




(5)
Artist wood Violin is in the next level

By:

Stefanus Tambun

on 6 June 2019

I was doubt to buy this package ( Artist SVN12 solid wood violin Ultimate Package 1/2 size) since the price was almost half of the previous violin I bought. but after reading some of the reviewers especially on Guitar amplifier, I got some come confidence to have a try. Amazingly, it was beyond my expectation. When my son played it, the sound was clear and loud. I didn't understand, how come from the small amount of money I got the best violin and its package under $200. The staff was friendly and know well what they were selling. I highly recommended and will come again.


(5)
Overjoyed with Artistguitars

By:

Sherry

on 27 January 2019

We rented a 1/8 violin set from Logans when my daughter first started violin. My general belief that learning violin is an expensive thing made me think that was the only affordable solution back then. $35 x 12 months (=$420) later, we need to upgrade the size to 1/2. I decided to find a second-hand one from Gumtree and found many of them listed around $200 unsold for a long time. It was no surprise that Artistguitars.com.au jumps out with high review scores after a few minutes of Googling. I can't believe that a whole set of violin is $149 including everything a student need. A package is delivered within 1 buisness day to Sydney. Email about delivery tracking and setup tutorial were sent all within 24 hours. We followed the video instruction by Elite Violin Academy and has everything setup within 20mins. It sounds wonderful, better than the 1/8 Gilga we rented. We'd definitely buy again from Artistguitars for all my kids musical instruments.


(5)
Violin 1/2 size

By:

Natasha

on 22 August 2017

Great violin for the price, well made and kit comes with shoulder rest, music stand and tuner


(5)